FALL 2022 NEWSLETTER 
Pineridge Ski Center is excited to begin its 39th year of operations for the 2022-2023 season. 

Welcome New Faces
We are thrilled to announce some exciting news for this season! Pineridge will have some new faces around the ski center this year to play a larger role in operations. Please welcome Nate G., Gerlinde W., Ashley P. and Chris P. as they help our skiers and snowshoers enjoy the outdoors and forests. Walter, Terri and Newt will still be around, though their involvement will be to a somewhat lesser degree.
 
Fall Clean Up
Each year we hold a volunteer trail clean up program to have people help clear tree limbs from the summer storms. Trail cleanup dates this year are November 11th, 12th, 13th, and 14th. If you are interested in lending a hand please email Walter Kersch at walterkersch@aol.com with the time and date that you can volunteer. We will need to assign trails and coordinate volunteers so that all trails can be cleared before the snow arrives.
 
Youth Season Rentals
Pineridge offers cross country ski season rentals for children at very reasonable rates starting at $65 for the year. Season rentals can be taken home to be used locally or at other areas. Call the lodge at (518) 283-3652 starting November 1st to make a rental pickup appointment. If you pick up them up by December 23rd the child will receive a free Pineridge season pass (a $65 value!).  
 
In Search of Ski Instructors
Pineridge is looking to hire 1-2 cross country ski instructors who will offer lessons to customers. Instructor training will be provided but interested parties should be a competent cross-country skier on a variety of terrain. Send resumes to walterkersch@aol.com.
 
2022-2023 Events
We are planning several scheduled events this year. Please check the website events page and Pineridge Facebook page for details throughout the year.
 
New Trails in Solitude Area
Pineridge has been busy this summer clearing new trails in the solitude area. Currently dubbed "Trail #6" has been cleared for backcountry skiers connecting with "#6.2" for a mile plus loop. "Trail 7" has also been cleared as an out and back. Trail naming is in the works. This area offers fantastic gentle rolling terrain and is suitable for novice skiers who are comfortable on groomed trails and want to try some ungroomed terrain. The nearby Outback trail (sometimes groomed, sometimes natural) is another option that connects with Scouting and runs along a neighbor's property to offer beautiful open views.
 
Most importantly we look forward to the start of the season, the return of old friends, meeting new friends and lots of snow to play in!

The Pineridge Team,
Walter, Terri, Newt, Nate, Gerlinde, Ashley, and Chris
Recent Photos: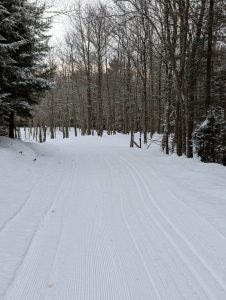 Freshly Groomed Trails 1-27-23!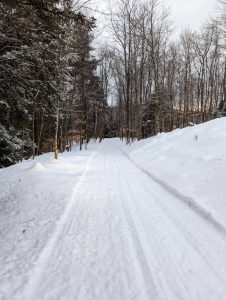 Freshly Groomed Trails 1-27-23!